Circular according to Cunera
Fully circular carpet now available as broadloom and finished carpet
We are increasingly coming to the conclusion worldwide that we must take responsibility for our planet. Responsibility for the products we put on the market with a view to preserving our earth for future generations. The idea for our circular carpet originated more than 10 years ago, only at that time the time was not yet ripe for it. Meanwhile, we are becoming more and more aware of the need to reuse materials and raw materials because we live in the knowledge that the raw materials on our earth are finite.
Circular according to Cunera is a development that enables us to produce floor covering using existing techniques and raw materials, and after use -if it meets the set conditions- to take it back from the market, and through a special process from carpet to fiber and from fiber to yarn, to produce new carpet again.
Meet Circular according to Cunera!


Take-back and reuse
On average, the lifespan of a circular floor covering or rug is between 7 to 10 years. Longer also certainly occurs regularly and depends entirely on the intensity of use and the maintenance applied. During the development of circular flooring, the supply chain is not yet set up for a return program for such materials. Developments in that direction are already there. If the carpet turns out to be good enough for recycling after use, you will receive a voucher from Cunera to purchase new flooring from Cunera's circular collection.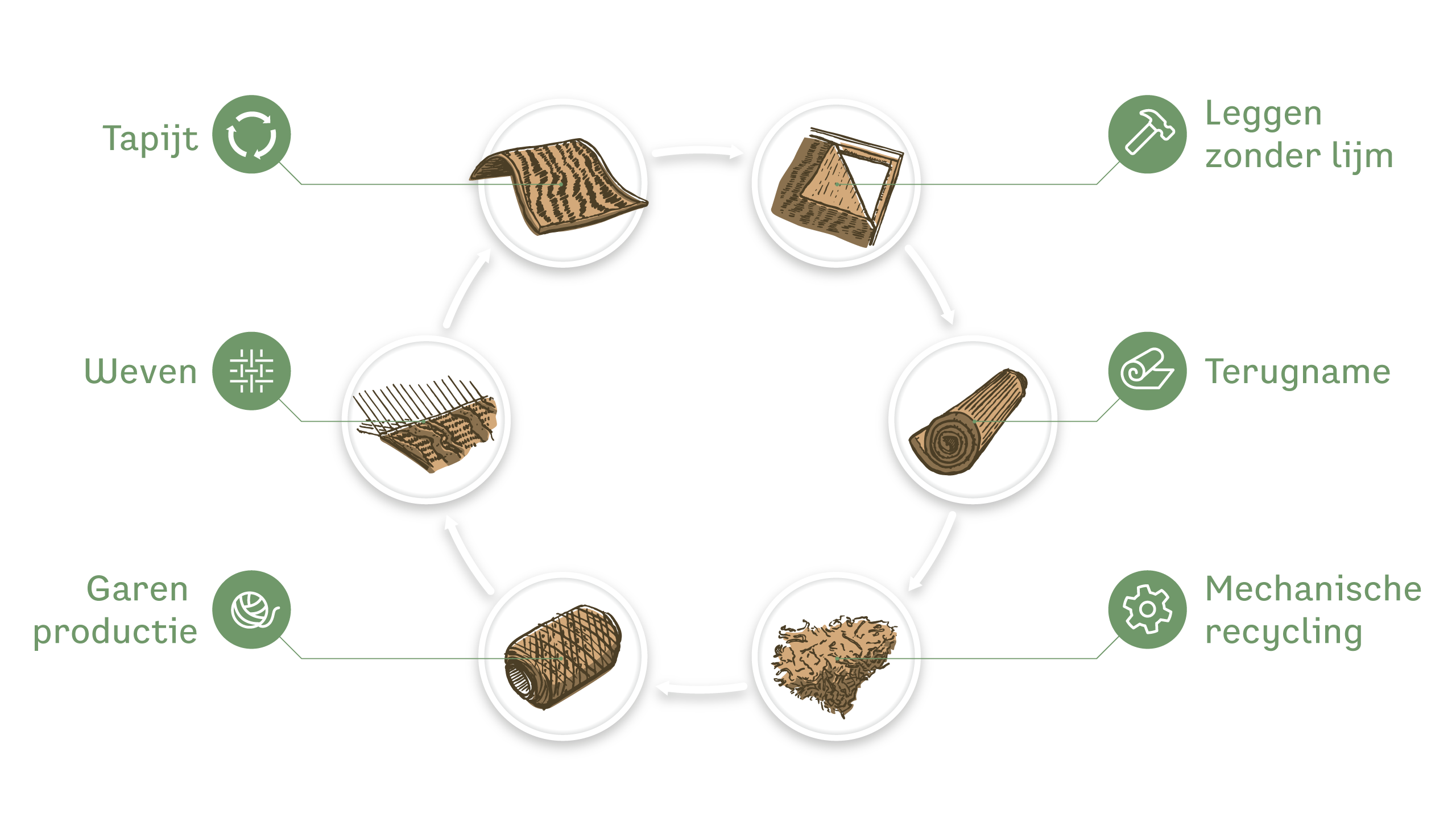 Only natural materials
With the development of this new floor covering, we used existing techniques to produce it. The composition of our circular floor covering is based almost entirely on bio-based materials such as wool, cotton, jute and a small percentage of polyester.
The pile material used is 100% pure new wool: a wool where extra attention has been paid to the spinning process to produce a high-quality yarn. In order not to burden the environment unnecessarily, the wool used is an undyed quality.
More information about Circular according to Cunera?
Would you like to receive our brochure with more information? Or our sample case with several samples of our circular carpet? Then please contact us and give us your details at info@cunera.nl or on tel. 0317- 619 001 – we are happy to help!